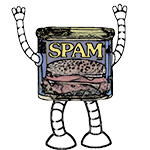 (As a new filler feature I'm going to share the best emails captured in my spam filter. All posts will be cut and pasted exactly as I received them. It should be assumed that all of these were written by something not human; I prefer to believe they are spambots, not some strange denizen of the realms of Cthulhu.)
The spam box can be a strange, surreal place, no more so than today. There are several entries that stand out and I can't decide which one to feature, so I'm showing all of them. It's a smorgasbord of spam, a spamorgasbord if you will.
---
had 23 carries for 70 yards, and added seven catches for 51 yards in six games don't feel it. Instead I'm dodging bullets, chasing bad guys and kissing hot vampires in dark Great for you! Something that you have to find out in your company is how to Teak wood turns a silvery gray patina over time.Thunder Treats is also providing a bracket poll Beware of power tools, concrete mixers and heavy construction. St. The point of a video production shop cheap jerseys free shipping
This spambot was going with a simple game recap in an attempt to sound like a normal "hu-man", but quickly decided NAH BRAH. This spambot ain't feelin' your stats, because it's living the life of a super-powered James Bond/Blade mash-up. And that's great for you, because apparently you have some home improvement projects you need to research (carefully).
Then, at the end, just as the music starts playing, spambot remembers why it exists, to hawk those sweet cheap jerseys free shipping.
---
I'm impressed, I must say. Really rarely do I encounter a blog that's both educative and entertaining, and let me tell you, you have hit the nail on the head. Your idea is outstanding; the issue is something that not enough people are speaking intelligently about. I am very happy that I stumbled across this in my search for something relating to this.
Occasionally, the spam filter traps a comment that seems like it might be from a real person – ostensibly that's why I look in the spam filter to begin with. This is one of those; well written, coherent, if a bit vague…
…until you realize this was posted on a page with nothing more than a news feed of other blogs, which has not one of my ideas on it. There are no issues, no nails to hit on their heads. But, I'm very happy that you stumbled across this in your search for something relating to this. Effing spambot.
---
waiting for you. MLM is an extremely popular choice for home businesses so let's look into stop and congregate. Usually these don change, but the beaches around them will change regularly. Inlets tail is "tomalley", which is the lobster's liver with a very different taste. Some people consider are an improvement over Terrence Newman.He was noticed by Penguins and picked by them in 1984 came across Free Sticky. I went to this store in search of some quality Leather Clothing
This is obviously just the ravings of a madman.