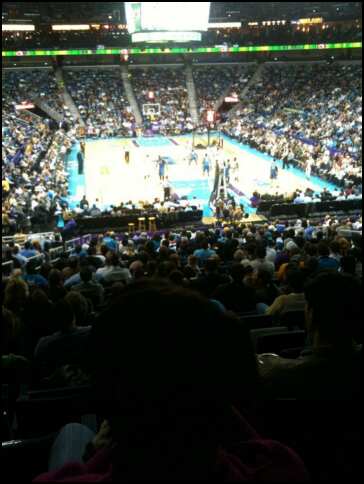 My sister saw her first NBA game last night and watched the Hornets send the Wizards to an 0-25 road record (I correctly assured her she would see a victory by her home team).  She was able to verify in person that Jimmy Wall is blazing fast, so I guess that's a good thing.  I was unable to watch the game, instead following it online, but noticed once again that the Wizards jumped out to an early, unsustainable lead.  
The pattern of starting games strong and then letting them slip away is becoming so repetative that I'm convinced that if/when they do win a game away from the Verizon Center it will be a game where they appear buried in the first half, only to surge back for an improbably victory.  I experienced one moment like that in my brief time playing any type of organized basketball (cue "Glory Days" as I recount my days as six foot, 220lb center on my church league team). We were playing a much larger church in Texas on their home court.  This was a massively larger congregation than the small church my family attended and they had several outstanding high school players.  We were no slouches and regularly beat larger churches closer to home, but in this game we seemed hopelessly overmatched.  It did not help that we were playing against both our opponents and the referees.  Not that I'm bitter (I was called for one foul by being pushed to the floor from behind while jogging down the court). At halftime we had a team meltdown, with several of us nearly getting into fights.  Yet, somehow our coaches got the idea into our heads that, if we were really that upset, to do something about it on the court.  And we did. I don't mean stealing a victory at the end – we completely blitzed the other team, winning by over twenty points after being down nearly thirty at the half.  And, as cheesy as it sounds, it is still one of my fondest sports memories.
I can absolutely see it playing out like this for the Wizards.  One game they will go into the locker room, down double digits, and it will be one of the young guys absolutely unloading on his teammates.  I can easily imagine John Wall or Trevor Booker finally tiring of the pathetic pretending on the defensive end, questionable shot selection, and all of the other habits that have contributed to this season's futility on the road, before a charged up team comes out and steamrolls it's way to a win.
Somebody has to do this and emerge as a leader on this team, because it is painfully obvious that "vets" like Andray Blatche and Nick Young either still don't get it, or just don't care.  With the organization still guilty of coddling players regardless of things like hustle, desire and basketball IQ, somebody on this team has to take it upon themselves to light a fire under these guys, if there is a fire to be lit.  I still hold out hope that there is a spark in Nick Young. I am much less hopeful of the newly christened Groundhog Dray.  If the stories of players on opposing teams lacking any respect for him are accurate it can only be a matter of time before a Wizards teammate gets sick of the BS.  Hopefully it happens sometime this season – maybe we can petition the league to spot the Cavaliers 20 points on February 13.